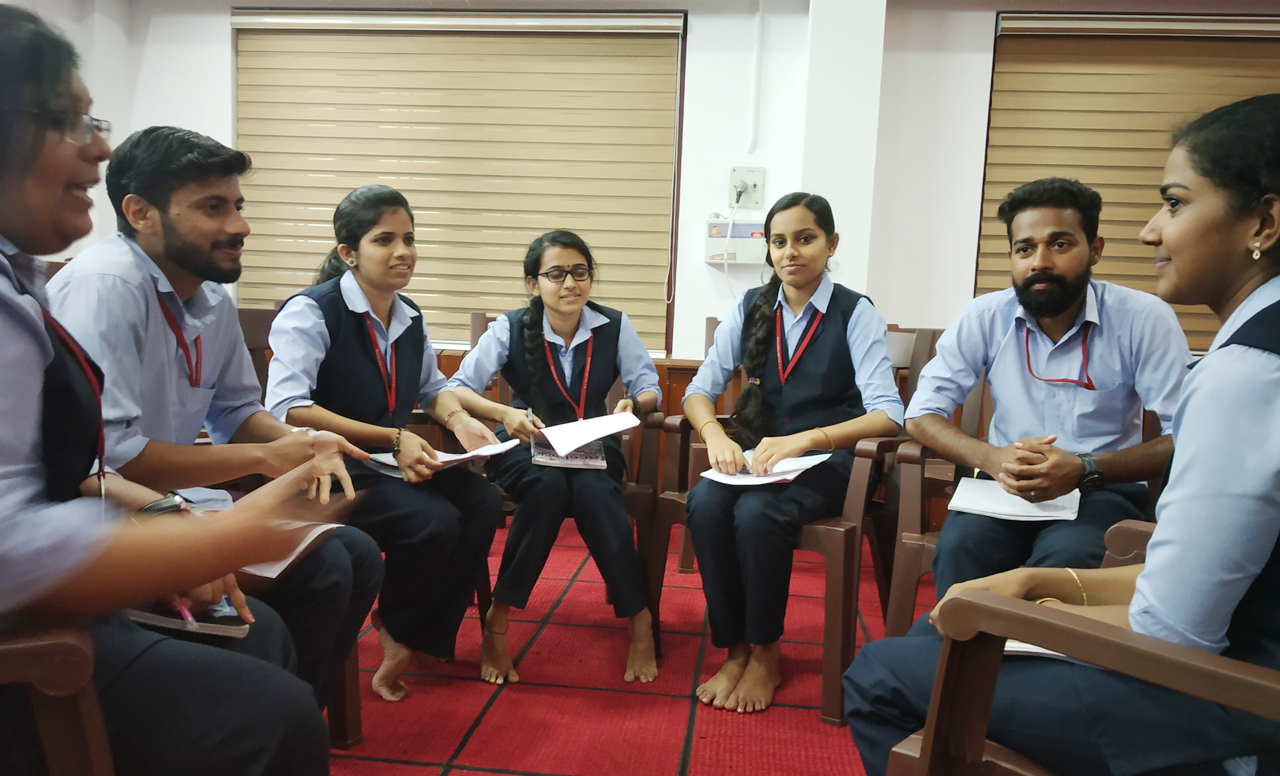 In a technologically advancing world, education's relationship with the old and newness in demand is inevitable and the necessity of Life Skills to educators and students to be healthily responsive to shifting circumstances is crucial.
ISSTAC offers lively and interactive educational life and study skills training to help children develop independent thinking, overcome personal insecurities and attain good habits for long-term stability and success. Modern psychological tools like Nero Linguistic Programming (NLP), Transactional Analysis (TA) and Laws of Attraction principles will be used for training. Worksheets will be given to the participants for practice. The Program is conducted in English, Hindi and Malayalam. Common topics are considered for the training are as below (Certain topics will be added or eliminated as per the need).
Specially Crafted Educational Training
College Training Programs: In a competing global job market, generic skills along with academic skills play an important role for a student's employ-ability. Below are some of our key focus areas:
Attitude Transformation and Motivation
Communication Skills (Verbal and Body Language)
Behavioral Skills and Public Speaking
Time Management and Learning Styles
Stress Management and Overcoming Fear
Career Mapping and Decision Making Skills
Collegiate Etiquettes and Interview Skills
Training for Schools: Life skills equip children to be successful not only in their academic but also in their personal lives. Given are some of our major focus areas
Positive Mental Attitude
Strength Analysis .
Goal Setting
Study Skills
Career Guidance
Stress Management and Counseling
Relationship
Leadership
Communication and Speech Craft
Values and Ethics
Time Management
Hygiene
Nature and life
Addiction
Sex Education
Training for Educators/Teachers: As new ways and technology arise, faculties need to be multifaceted performers. By acquisition of soft skills, they enhance their personal traits and social skills to not only be successful educators but also individuals.
Here are few things we aim through our Training Program for Educators:
Positive Mental Attitude
SWOT Analysis
Self-Awareness & Paradigm Shift
Effective Teaching Techniques
Communication
Counseling Techniques
Decision Making
Child Behavior and Psychology
NLP
TA
Sex Education Training: It is the fundamental duty of the society to educate the next generation in making good decisions about their sexual life. Our Sex Education Training equips children with accurate must to know information contributing to positive behavioral changes and thereby enabling them to lead a healthy and fulfilling adult life. Prime focus of this training are;
Help children to build self-esteem.
Develop in children confidence in talking openly about sexual health issues.
Educate and support children to build healthy relationships.
Develop resilience skills to combat with the negative influence of technology on relationships and sex.
Educate children on the need to make healthy life choices about sex.
Counseling Techniques
Decision Making
Child Behavior and Psychology
Educate all Govt policies and guidelines against abuse and other malpractices.
Study Skills Training: A set of transferable life skills, the primary purpose of study skills is to help students maximize the learning process. But the benefits of study skills can be reaped beyond academic levels into new domains like organizational skills, time management, self-discipline and so on. Some techniques to sharpen study skills are:
Getting systematized to study.
Crafting study strategies like goal setting.
Study time management and how to utilize it effectively.
Accumulating study materials.
Developing active listening, reading, and presentation skills.
Effective note-taking techniques.
Improving memorizing and revision skills.
Manage tests and interviews.