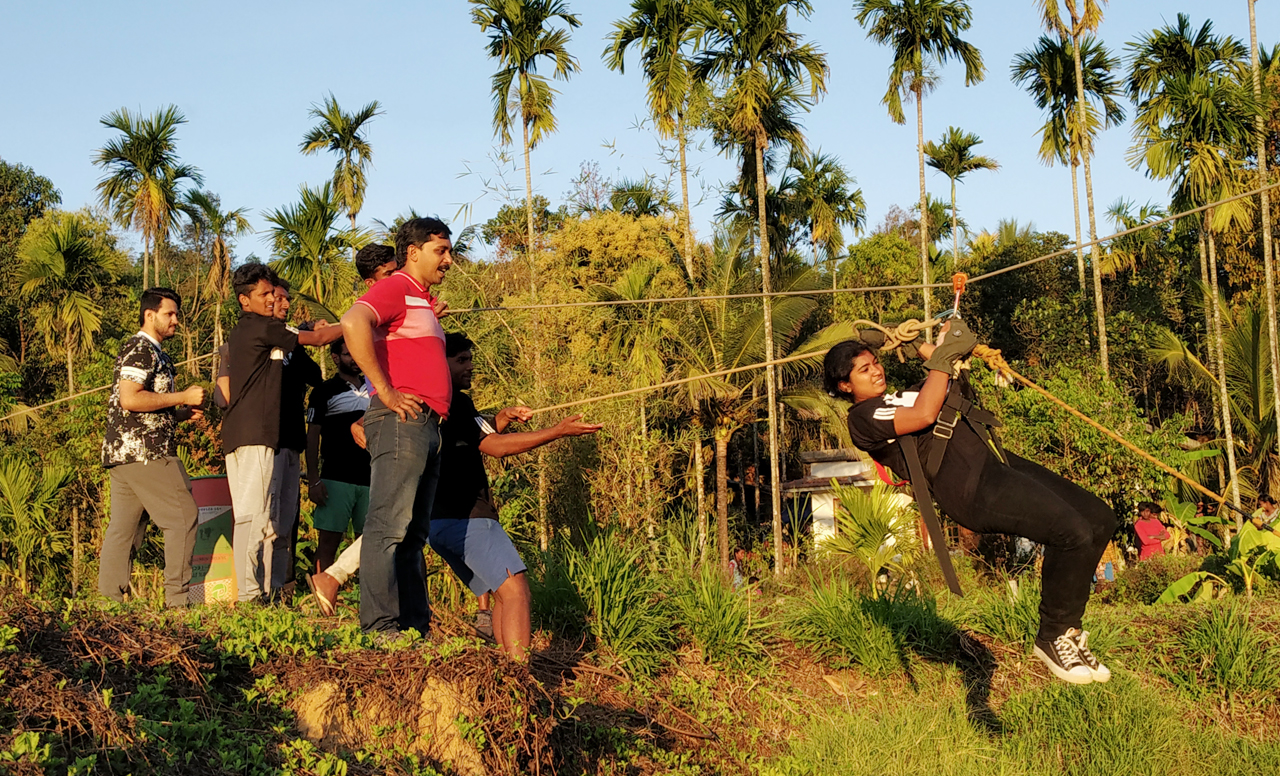 NLP OUTBOUND TRAINING
Personal development and enhancement is a beautiful aspect both in one's personal and professional life. There are plenty of ways to attain Personal Development; but Neurolinguistics Programming is the most successful and popular amongst all.
The theory of NLP will be practically experienced through Outbound Training. It is an experimental learning process where one learns to challenge their limiting beliefs and fears. "Stretch Beyond for Enhancing Effectiveness", ISSTAC's NLP outbound program focus on activity based learning through a mix of fun, play, and light adventure modules.
Duration of NLP Outbound Training:
Two-day Residential Program
Outbound Training
Personal Developments Attained Through NLP Outbound Training
Time management
Decision making
Goal Setting
Assertive Skills
Stress Management
Confidence Building
Listening Skills
Decision making
Persuasion Skills
Emotional Intelligence
Fear and Phobia Removal
Gains of NLP Outbound Training
To give practical opportunities to stretch through different outbound activities.
To set achievable, realistic, and ambitious personal and professional goals.
To learn self-affirmation techniques, self-talk, and self-hypnosis tools for daily use.
Develop a positive perspective towards life and its' challenges.
Achieve unstoppable flow of mind and energy.
Improved personal relationships and social connections.
OUTBOUND TRAINING
Outbound training Program is a training method for enhancing organizational performance through experimental learning. Such programs are also often referred to as corporate adventure training or outdoor management development.
Target Groups
Corporate Outbound Training:This is training with outbound activities for enhancing organizational performance. "Stretch Beyond for Enhancing Effectiveness", this light adventure module training is designed to improve team building, time management, communication skills, leadership, cooperative culture and much more.
Impacts of this program
Improved intra-organizational communication skills.
Understanding bulls-eye goal setting.
Innovation, creativity, and time management.
Planning, coordination, leadership, and delegation of work.
Trust building and team bonding.
Critical thinking and Conflict management.
Celebrating accomplishments.
Outbound Training for Educational Institutions: Breaking the monotony of classrooms and academics, NLP outbound training is a focus on the Life Skills of every individual participant by stimulating them out of their comfort zones and unleashing their potentials through fun-filled and light adventure activities.
Benefits of the training
Self-esteem development
Overcoming fears and phobia's
Building Team spirits
Learning value of play
Value of making friends
Trust building
Learning leadership qualities
Unique Group Outbound Training: An outbound training for unique groups like political parties, religious organizations, specific government departments etc.
Medium:
English/Malayalam
Tools Used:
Audio-Visual aids, hand-outs, psychological tools, and outbound settings.